51st foes blast Cunningham
Source: North County Blade-Citizen, Saturday 10 October 1992, pp. A-1, A-9. [Merged in 1995 to form the North County Times.]. Copyright © 1992 Howard Publications.
By Tom Bradley Jr.
Staff Writer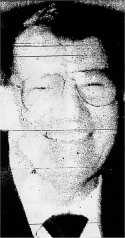 'DUKE' CUNNINGHAM
Comments targeted
CARLSBAD — Randy "Duke" Cunningham's rivals in the 51st Congressional District race are questioning the Republican front runner's integrity in the wake of his recent comments that called for "shooting" liberal House leaders.
The charges, leveled by Democrat Bea Herbert, Green Party candidate Dick Roe and Libertarian Bill Holmes, comes as last year's Tailhook Association scandal continues to bedevil the first-term representative, and follow his support for President Bush's attacks against the Vietnam War record of Democratic rival Bill Clinton.
Before a candidates forum Friday, the trio condemned Cunningham and his comments regarding the Democratic leadership in Congress.
"We're seeing a little bit of his impersonality and a dark side to Randy Cunningham that's a little scary," Holmes said.
Cunningham recently told the Washington Post that Democrats blunting Republican legislation "ought to be lined up and shot. I'm talking about the liberal leadership."
In February, Cunningham made similar remarks about Vietnam War protesters to a Blade-Citizen reporter. "I would have no hesitation about lining them up and shooting them," he said. "Those people should be shot for what they did to us over there."
But Cunningham said the comments should not be taken seriously because representatives often say things on the House floor out of frustration. He said the quote stemmed from debate over a dam project that would have reduced water supplies in Southern California.
"Dissent is fine," he said. "That's what makes this country great."
However, Cunningham and three other conservative congressmen this week suggested that Bush question Clinton's patriotism to "kill" the Arkansas governor politically.
Bush followed their advice and accused Clinton of organizing anti-Vietnam War protests during a visit to England in 1969. In a published report, Cunningham called Clinton a "traitor."
In addition, a memo Cunningham sent in 1985 to the Tailhook Association, an organization of Naval aviators, may further undermine his credibility, Herbert said.
Cunningham released the memo this week, more than a year after several women accused drunken officers of sexually molesting them at the Las Vegas Hilton during last year's convention.
Herbert said the memo proves that Cunningham was aware of past wrongdoing at the annual conventions. "This is something that just isn't rolling over," she said. "It just seems to keep up with him."
Cunningham said he has not attended a Tailhook convention since 1987. But his 1987 memo warned Tailhook officials about "damage to the Hilton Hotel," "dancing girls performing lurid sexual acts on naval aviators in public" and drunken pilots he termed "zombies."
According to the memo, Cunningham "viewed with disdain . . . the misconduct," but in an interview Friday, the former fighter pilot admitted he learned about most of the events from other conventioneers.
While some of the items were later addressed, a "lack of command presence" may have led to last year's scandal, he said. Cunningham retired from the Navy in 1987 and allowed his Tailhook membership to expire in 1989.
Commenting on the political ramifications of the memo, Cunningham said, "If it does come up, people will view it positively," he said. "If it's a political issue, I'll come out of it a hero."
---
Postscript (not in this article): the original source of this "lined up and shot" remark is Washington Post's "Reliable Source" column, 10/6/1992.
---
http://www.dukecunningham.org/bibliography/ncbc19921010.html